Prince Andrew opens Harrogate police treatment centre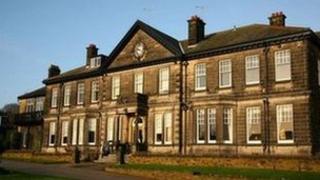 A rehab centre in North Yorkshire that treats injured or ill police officers has been opened by The Duke of York after a £3m refurbishment.
St Andrews Treatment Centre in Harrogate is one of three facilities that helps officers across the UK.
The revamp includes a new physiotherapy department, gym and changing rooms, as well as an upgrade of its 23 bedrooms.
It was funded by a £1.3m grant from the Home Office, £250,000 from the Police Dependants' Trust and public donations.
The Police Treatment Centres charity, which runs the project, said the revamped centre also featured two rooms designed especially for patients with poor mobility and bariatric problems.
'Extremely grateful'
Chief Executive Michael Baxter said: "The 23 bedrooms in the 1980s Duke of York wing were outdated and poorly designed for modern use and now all the bedrooms have been refurbished to include modern en-suite shower rooms.
"The windows have been replaced and even the patients lounge has received a makeover with new modern furniture designed to help patients with back injuries.
"It has been tough raising such a large amount in such a difficult economic climate. We are extremely grateful to the organisations and individuals who have contributed to the refurbishment and for their support of injured and ill police officers."
The centre treats about 4,000 retired and serving police staff. Officers donate more than a pound a week to keep it running.