Ripon Cathedral Dean Keith Jukes dies aged 59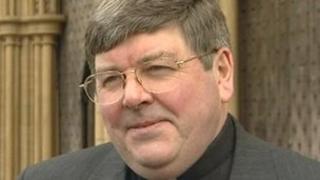 Tributes have been paid to the Dean of Ripon who died days after announcing he was suffering from a growth in his stomach.
The Very Reverend Keith Jukes, 59, died shortly after being admitted to Harrogate District Hospital.
An announcement by Dean Jukes was read out at Ripon Cathedral on Sunday saying doctors had found a cancerous growth.
Bishop John Packer, the Bishop of Ripon and Leeds, said Dean Jukes had "re-energised" worship at the cathedral.
'Greatly loved'
Dean Jukes had been Dean of Ripon for six years, taking up the post in March 2007, following eight years as Vicar at Selby Abbey.
In Sunday's message to his congregation at Ripon Cathedral, Dean Jukes said he was "feeling very weak and tired, but in good heart".
"I know that come what may, God is with me, and my life is in his hands," he said.
Bishop Packer said the Dean's sudden death had come as a great shock.
"He was greatly loved by the cathedral community and by people in the wider city and his death will leave a hole in many of our lives."
Dean Jukes leaves behind his wife and two children.