Council 'arrogance' over Allerton Park incinerator plan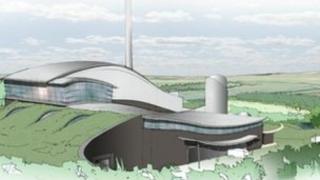 A decision to continue to back plans for a waste incinerator is "blinkered arrogance", campaigners have said.
The government withdrew £65m of funding for the scheme at Allerton Park, near Knaresborough in North Yorkshire, in February.
However, the county council is seeking a judicial review of the government's decision.
North Yorkshire Waste Action Group said pursuing legal action would waste even more money on an unnecessary scheme.
The proposal was developed by the Conservative-run county council and Labour-controlled City of York Council to reduce the amount of household waste being sent to landfill.
The Department for Environment Food and Rural Affairs (Defra) had provisionally allocated private finance initiative (PFI) credits to North Yorkshire in 2007, but withdrew them as it said the scheme was no longer needed to meet EU waste targets.
'Pull the plug'
But the county council claims Defra did not make that decision in the "proper manner".
The North Yorkshire Waste Action Group is also seeking its own judicial review over the county council's decision to grant planning approval in 2012.
Bob Schofield, from the group, said: "This is another example of the blinkered arrogance of North Yorkshire County Council.
"They have spent years not listening to us. We've told them this thing was not financially viable and they won't listen to the government."
The two local authorities have already spent more than £6m on the Allerton Park scheme.
Mr Schofield added: "This is another example of their profligacy with council taxpayers' money.
"They need to stop this wretched scheme, pull the plug on it now and do the sensible thing."
Both councils have declined to comment further until the legal action has been concluded.