North Yorkshire businessman jailed for £1.24m fraud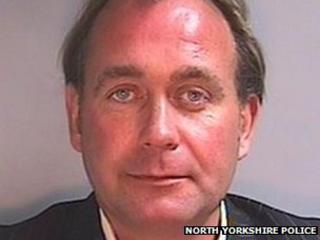 A businessman who conned three friends out of £1.24m to fund a luxury lifestyle has been jailed.
North Yorkshire Police said Jonathan Guy Brudenell, of Lammas Court, Leeds, built up a "web of lies" to get others to invest in fake property deals.
A criminal investigation began after he was declared bankrupt in October 2009.
Brudenell, 42, was sentenced at Teesside Crown Court to five years and four months after pleading guilty to fraud and perjury at earlier hearings.
Det Insp Ian Wills from North Yorkshire Police's major fraud team said: "Brudenell blatantly abused the trust of his friends.
'Nothing but a facade'
"He was a persistent liar whose deception was compounded by fraudulently altering official documents and lying during legal proceedings in a feeble attempt to delay repayment of the loans and avoid exposure."
Brudenell was a well-known businessman in North Yorkshire, who made his money in property, hotels and aviation.
But North Yorkshire Police said his lifestyle had become "nothing but a facade" by 2008.
In November 2008 the first unnamed victim gave Brudenell £600,000 to invest in a property deal in York and another friend loaned him £400,000 in January 2009, but detectives found the money was actually used to pay off debts.
The third victim gave Brudenell £240,000 in March 2009 and received just £7,200 back in interest.
Police said the businessman fabricated emails and bank statements to back up his claims that investment deals had gone through.
Brudenell pleaded guilty to six charges of fraud at York Crown Court on 30 November. At Teesside Crown Court on 22 April he admitted five further charges of fraud and one charge of perjury for making a false statement during a bankruptcy hearing.