Pickering flood defence work expected to begin by autumn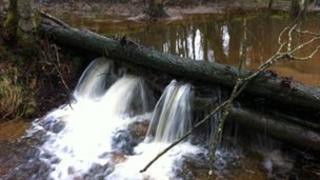 Work on a £2m flood defence scheme in Pickering is set to begin by the autumn after a council approved the plans.
The construction of a reservoir near Pickering Beck to store flood water has been given planning consent by North Yorkshire County Council.
It will complement existing measures such as creating natural dams and tree planting already carried out upstream.
The project aims to slow the flow of water running into the town which lies at the foot of the North York Moors.
It would provide protection for Pickering from a one-in-25-year flood event, according to the Environment Agency.
Innes Thompson, from the agency, said he expected work to begin in the late summer or early autumn.
He added: "It will take us the majority of the winter period and into next spring to actually finish and have the scheme built."
Pickering last suffered serious flooding in June 2007.
Flood defence campaigners in the town welcomed the decision.
Kath Grayson, from the Bridge House guest house, said: "We never thought we would see the day when this would come.
"I don't think we really will believe it is happening until the first lorries start trundling through Pickering to build it."
The plans were approved by the North York Moors National Park Authority last month.