Cash appeal to extend North Yorkshire nature reserve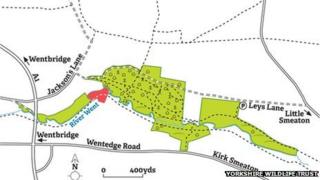 A wildlife charity has said it needs to raise £40,000 by September to buy land to connect two sections of a North Yorkshire nature reserve.
The Yorkshire Wildlife Trust said its reserve at Brockadale, near Kirk Smeaton, was currently split in two sections.
It said it had been given a "unique opportunity" to purchase the missing piece of land for £30,000.
The additional £10,000 would be used to restore the natural habitat.
The reserve is about 1.2 miles (2km) long and most of it is classed as a site of special scientific interest (SSSI).
Ian Jelley, regional manager at the trust, said: "Sites like Brockadale form islands in the landscape for species to thrive and be protected.
"They acts as stepping stones for species moving through Yorkshire and create reservoirs of wildlife that can be used to repopulate our landscape."
"Here we have a unique opportunity to purchase the missing piece of Brockadale and with it continue to enhance one of the premier sites for wildlife in Yorkshire, if not the UK."