Leeming to Barton A1 upgrade plans go on show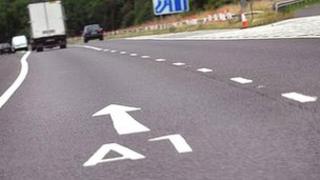 Plans to upgrade part of the A1 in North Yorkshire to a motorway have gone on display to the public.
The proposals will see the replacement of the 12-mile (19.3km) existing dual carriageway between Junction 51 at Leeming and Junction 56 at Barton.
The £314m upgrade plan was scrapped in 2010 but was reinstated in December 2012 by Chancellor George Osborne.
The work, due to start early next year, is expected to be finished by mid-2016, according to the Highways Agency.
'Improve safety'
The proposals include the construction of a new local access road from Leeming towards Catterick, a new junction at Catterick and an upgraded junction at Scotch Corner.
The aim of the work was to "improve safety and journey time reliability between London and major urban centres in the north of England and Scotland", the Highways Agency said.
The plans went on display on Thursday at the Bridge House Hotel in Catterick.
Two further exhibitions are due to be held at the same location on Friday 14 June and Saturday 15 June, according to the Highways Agency.