Rudding Park helicopter crash pilot 'unqualified'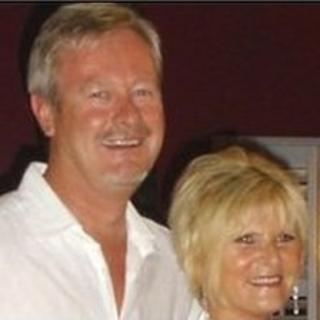 A millionaire businessman who died with his wife when the helicopter he was flying crashed was an "unqualified" pilot, an inquest jury has concluded.
Paul Spencer, 43, and his wife Linda, 59, were killed when their aircraft somersaulted and plunged to the ground in North Yorkshire in 2008.
Serious flaws later emerged in Mr Spencer's training, which was not sufficient to grant him a licence.
Jurors at the inquest recorded narrative verdicts.
Mr Spencer had picked up the Gazelle helicopter from Essex on the day he died, the inquest in Harrogate was told.
He had flown back to the Rudding Park resort, near Harrogate, where the couple owned a lodge.
The entrepreneur from Brighouse, West Yorkshire, who had held his helicopter licence for just six weeks, took Mrs Spencer on a flight over nearby Knaresborough but lost control on their return.
Witnesses told the inquest how they watched the low-flying helicopter pitch and tilt on to its end before plunging below the treeline.
Air accident investigators later highlighted "several areas of concern".
The inquest was told the fact Mr Spencer got his licence after just 10 days of training was "not impossible" but "highly unusual", according to investigators.
The jury ruled that the helicopter "crashed in adverse weather conditions whilst being flown by an unqualified and inexperienced helicopter pilot".