Richard III celebrations announced for York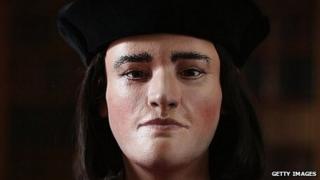 A year-long programme of events celebrating King Richard III, the last Yorkist king of England, has been planned for York.
King Richard's skeletal remains were found by archaeologists beneath a car park in Leicester, and are due to be re-interred in the city next year.
York City Council is staging events including exhibitions and festivals.
Councillor Sonja Crisp said: "The discovery... sparked extraordinary levels of public interest."
She added: "So, we thought, why not couple this surge of interest to the abundance of knowledge and source material we hold in this city? Why not build on existing understanding, share it more widely and keep the conversations going?"
Celebrations will begin on Saturday and run for the next 12 months.
Highlights include an exhibition of a replica of Richard's head at the Yorkshire Museum, and a performance of Shakespeare's Richard III at the York Theatre Royal in November.
'Good archaeological practice'
The University of York's Festival of Ideas will host a series of discussions and talks led by archaeologists.
Philippa Langley, member of the Richard III Society and originator of the archaeological search, will present a talk on the dig.
Last month about 100 people marched through York in support of a bid to have Richard's body buried there.
The licence to carry out the dig, issued by the Ministry of Justice, gave the University of Leicester the authority to decide where to rebury the king.
The university said his remains would be buried at Leicester Cathedral "in keeping with good archaeological practice".
Lawyers acting on behalf of the Plantagenet Alliance, which includes 15 of Richard III's relatives, lodged papers in the High Court seeking a judicial review of the decision.
Richard was killed at the battle of Bosworth in 1485 and was hurriedly buried in the church of the Greyfriars in Leicester, which was subsequently lost during redevelopment.