Red Arrows headline Scarborough's Armed Forces Day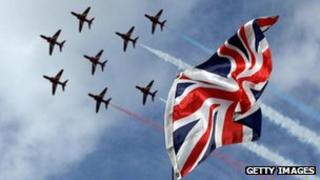 The RAF's Red Arrows have staged an aerial display over Scarborough as part of the town's Armed Forces Day celebrations.
About 20,000 people were expected to line the streets in honour of service personnel, the town council said.
The event also included aerial displays from RAF Typhoon fighter planes as well as Spitfire, Lancaster and Hurricane aeroplanes.
A 92-year-old Dunkirk veteran was being honoured in the town.
George Wilson, from Eastfield, helped with the evacuation of troops from the French beaches in 1940.
He was being presented with the Armed Forces Day flag and a citation in recognition of his bravery.
'Appreciation and respect'
Leader of Scarborough Borough Council Tom Fox said before the event: "I would expect 20,000 people at least.
"We have a lot of military people coming here and veterans' families, and indeed we've got those people who want to come and show their appreciation and respect for the armed forces."
Other activities included a performance from serving paratroopers of the Ravens Parachute Display Team, a veterans' parade and military band.
Armed Forces Day recognises the contribution made by service personnel past and present. Members of all three services take part.
Events were also being held in Ripon where Spitfire and Hurricane aircraft were performing an aerial display.
On Sunday, celebrations will take place in York's Parliament Street and St Sampsons Square.