Great Yorkshire Show crowds gather as sun shines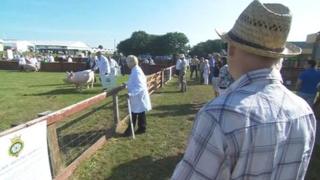 Organisers of the Great Yorkshire Show are hoping the heatwave will attract record crowds a year after the event was cancelled due to heavy rain.
More than 130,000 people are expected at the event in Harrogate, North Yorkshire over the next three days.
And with temperatures set to soar to around 25C (77F) attendances could top the record of 135,111 set in 2006.
Last year's show was cancelled after just one day when waterlogged car parks became too muddy.
It was the first time in 154 years that the event had been cancelled and the decision cost the Yorkshire Agricultural Society (YAS) about £2m.
As crowds began building for this year's event on Tuesday morning, YAS chief executive Nigel Pulling said: "What a difference a year makes.
"The contrast to last year could not be greater. The weather during the build-up to the event has been ideal and we are looking forward to a fantastic three days."
A YAS spokeswoman said the showground had been busy from shortly after the gates opened and early indications were that there would be a very high attendance this year.
More than £500,000 has been spent "weather-proofing" the site and the number of parking spaces increased by more than 5,000 - an additional 30%. About 45,000 cars are parked on land surrounding the showground over the three days.
As well as 8,000 animals competing for the championship prizes, the show's star guest will be 2013 Grand National winner Auroras Encore, trained by Yorkshire showjumping star Harvey Smith
Highlights include a mock battle staged by The Yorkshire Regiment each day in the main ring, with daily displays by The White Helmets, The Royal Signals Motorcycle Display Team.