York's 'Boris bikes' cycle hire scheme to start in 2014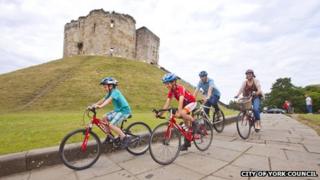 A city-wide cycle hire scheme is to start in York and could be ready by early 2014, the year the city hosts the start of a stage in the Tour de France.
City of York Council has agreed to a trial scheme, which is expected to cost about £200,000 a year.
It is not yet known how much it will cost to hire a bike and the council is looking for corporate sponsorship to fund the scheme.
The two-year trial would see 130 cycles for hire at 38 sites in the city.
Bikes would be available at shopping centres, park and ride sites, and the city's universities, the council said.
More than 11,000 of York's 200,000 residents currently cycle to work, according to the 2011 Census, and the council hopes the new scheme could increase that figure.
'Boris bikes'
Dave Merrett, the cabinet member for transport, planning and sustainability, said: "There still remains a gap in cycle provision for those living, visiting and working in York who don't have a bike and require a quick and flexible service to meet a variety of needs."
The council said the scheme would be similar to the one in London, dubbed "Boris bikes" after London mayor Boris Johnson, which started in 2010.
There are more than 8,000 bikes available at over 570 docking stations across central and east London.
Jessica Hicks of cyclehireinfo.com said there were now about 500 cycle hire schemes in the UK, ranging in size from individual shops to the London scheme.
The York scheme was approved at the council's cabinet meeting on Tuesday.
On Sunday, York hosts the men's and women's British Cycling National Circuit Race Championships and next year stage two of the Tour de France is to start from the city.