Empty spaces above York shops could house hundreds, report claims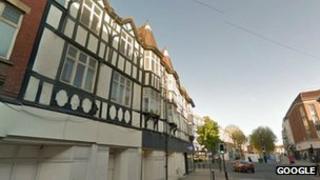 Between 1,000 and 1,500 people could be housed in unused space above shops in York city centre, a report has claimed.
The study, commissioned by the city council, said 36% of upper floors in buildings in York were not being used fully and could be converted.
The North of England Civic Trust (NECT), the report's author, said it would be possible to use the space for up to 800 flats or offices.
The council said it would "support" owners in converting empty space.
The NECT report was released as the Labour-run council confirmed £450,000 had been granted by the Homes and Communities Agency (HCA) for a scheme to convert the upper floors of the old White Swan Hotel in Piccadilly into 18 affordable homes.
'Untapped resource'
The report, commissioned last October, suggests between 1,000 and 1,500 people could be housed, even taking into account the number of buildings that might not be suitable for conversion.
Graham Bell, director of North of England Civic Trust, said: "Much discussion nationally about the future of the High Street has focused on shops, but for every shop there might be two or three times that area in the floors above as an untapped resource.
"Think of what could be unlocked in terms of jobs or housing and the benefits for York."
Councillor Tracey Simpson-Laing, cabinet member for housing, said: "Supporting the conversion of existing properties is not only exploiting a sustainable building resource, but will provide much-needed homes in the heart of the city."
The council is currently consulting on its draft local plan, which includes proposals for more than 1,000 homes a year in the area over the next 15 years.