Muston Scarecrow Festival gets under way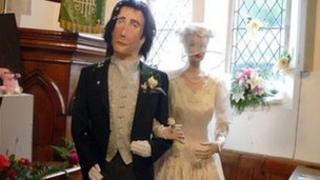 Dozens of scarecrows dressed in a variety of outfits have taken over a North Yorkshire village to mark the start of the annual scarecrow festival.
The event in Muston near Filey started as a low key affair in 1999 but now attracts thousands of visitors.
Organisers said this year's festival was extra special after last year's event was cancelled due to bad weather.
Councillor Godfrey Allanson said there was much secrecy among residents keen to keep their plans under wraps.
The Muston Scarecrow Festival runs until 4 August and sees residents make scarecrows which are then placed around the village on pavements and roofs, in gardens and hedges and on open spaces such as the village green.
Mr Godfrey, one of the organisers, said: "Last summer the festival was a victim of the prolonged period of wet weather so we are delighted to be returning this year.
"It is an exceptional community effort to get the village ready and there is always a high level of secrecy surrounding the festival as villagers keep their plans under wraps right up until the last minute.
"However, visitors should be prepared for many show-stopping scarecrows, with a healthy dose of humour and satire thrown in for good measure."