Scarborough midwife unit petition signed by hundreds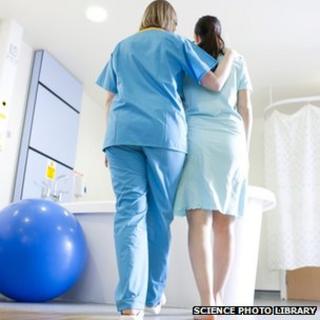 Hundreds of people have signed a petition to save a maternity unit after a temporary closure was announced and the NHS said its future was uncertain.
The midwife-led unit at Scarborough Hospital will close in October for five months while the hospital's maternity operating theatres are upgraded.
The unit, for women with low-risk pregnancies, opened in February 2010.
The hospital trust said it could not guarantee any facility's future while it was facing financial challenges.
An online petition supporting the unit, which was started by mother-to-be Joanne Garrity last week, has more than 800 signatures.
She gave birth to her first son at the midwife-led unit (MLU) in 2010 and said she was devastated she couldn't go there again for the birth of her daughter, who is due in November.
'Freaks me out'
She told BBC Radio York: "It just has such a homely, relaxed feel. It's not clinical like a hospital environment.
"The midwife unit is almost like you're at home. For me the thought of going into a hospital absolutely freaks me out."
Mrs Garrity said she only started sharing her petition on Facebook two days ago and described the response to it so far as "unbelievable".
The York Teaching Hospitals NHS Foundation Trust said women in Scarborough would continue to be able to have low-intervention births and use birthing pools at the hospital's labour ward during the temporary MLU closure.
Chief executive Patrick Crowley said the trust was, like others, facing financial challenges and was reviewing all services and facilities to see if they "pass the test of being both clinically and financially viable which means safe and affordable".
He said: "As we move forward we must examine ever single service, including the MLU.
"I cannot at this stage guarantee the future of any service or facility, it would be dishonest to say otherwise."