Selby Abbey organ: Urgent appeal to save 'national treasure'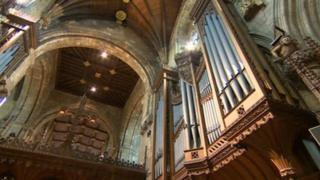 A 104-year-old organ in North Yorkshire which features on a series of renowned recordings could be unplayable within five years, a charity has warned.
Italian virtuoso Fernando Germani was recorded playing Selby Abbey's organ on three albums for the HMV label in the 1960s while he was the Pope's organist.
The organ, which has about 200 pipes and four keyboards, was built specially for Selby Abbey in 1909.
The "famous" organ now "urgently" needs a £500,000 refit, the Abbey Trust says.
'Great restoration'
The instrument was made by renowned organ-builder William Hill, who also made organs for Chichester Cathedral, Peterborough Cathedral and Sydney Town Hall.
John Engelhart, Selby Abbey Trust chairman, said while the organ was "internationally famous" it was becoming increasingly unreliable due to wear and tear.
"It runs pneumatically and on electric and these are all wearing out. The organ is becoming more and more difficult to play.
"In five years it won't be playable if we don't do anything."
A repair appeal had already raised about £330,000 but the instrument was now "in urgent need of attention", the Abbey Trust said.
As well as Germani, renowned organists including Jean Guillou, Gillian Weir and Daniel Roth have performed recitals on the organ at the 1,044-year-old abbey.
John Scott Whiteley, a former York Minster organist who first played on the organ at Selby Abbey about 40 years ago, said it must be kept in working order.
"We're talking about a great restoration to rescue what is, in fact, a national treasure. It's a national monument that must be saved," he said.