Arrests as York hosts Ebor race festival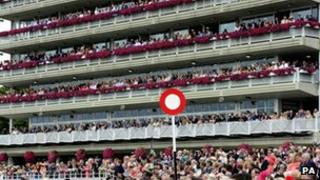 Twelve people were arrested in York as it hosted its annual Ebor race meeting.
Three men were arrested at the racecourse for allegedly being drunk and disorderly while another two were held on suspicion of drug possession.
One man was accused of breaching bail conditions and another is accused of using a fake ticket.
Five were arrested in the city centre - including a man who allegedly became abusive after being pulled from the River Ouse and then jumped back in.
Despite the arrests, North Yorkshire Police said people at the races and in the city over the weekend were "on the whole well-behaved and good-spirited".
Supt Aubrey Smith said: "We dealt with a small number of incidents but on the whole the event was upbeat and enjoyable and the vast majority of people had a great time."