£200,000 appeal for Scarborough lifeboat launcher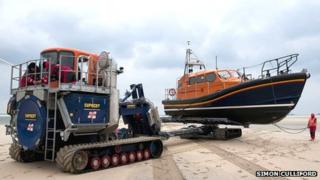 An appeal has been launched to raise £200,000 to ensure Scarborough's new £2m lifeboat is not left beached.
The seaside town's current Mersey class lifeboat is due to be replaced in 2015 with a more advanced type of lifeboat.
However, the new rescue craft will also require a specialist launch vehicle at a further cost of £1.5m.
While the launcher will be part paid for by two legacies, £200,000 still needs to be raised, said the Royal National Lifeboat Institution (RNLI).
'Reach our target'
Scarborough will be one of the first of the charity's stations to receive a Shannon class lifeboat, the first modern RNLI craft to be powered by water jets and not propellers.
The Shannon is designed to be mostly launched and recovered from a beach, but without its own specialist launch vehicle - known as a Supacat - this would be impossible, the RNLI said.
Tom Clark, coxswain of Scarborough lifeboat, said the vehicle was "an essential part of the RNLI jigsaw".
"We know £200,000 is a lot of money to raise, so we're really hoping the people of Yorkshire will get behind the appeal and help us reach our target."