North Yorkshire hospital staff face four-figure cuts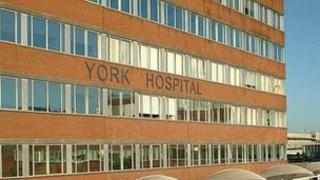 Staff at hospitals in North Yorkshire could face pay cuts as a hospital trust tries to make further budget savings, a union has claimed.
Unite said staff were "extremely concerned" at proposals which could see some of them lose up to £6,000 a year.
About 100 employees could move down a pay grade under the plan.
The York Teaching Hospital NHS Foundation Trust - which runs hospitals in York, Scarborough, Malton and Selby - said staff consultation was ongoing.
Physiotherapists, speech language therapists, occupational therapists and dieticians - so called allied health professionals - are among the professions under review.
'Cost saving exercise'
Posts currently deemed to be band seven jobs, with a top rate of £40,558, could be downgraded to band six, which has a top rate of £34,530.
Terry Cunliffe, from Unite, said: "The question being asked by us is, given there's no change in the need for the skills required, [is] how can our members be measured in a job evaluation as a band seven then, when the trust finds itself in some difficulties, they can be a band six?
"They want our members to work at the same professional level, offer the same service, but at the same time say they are not worth as much. It is a cost saving exercise."
The trust said the review was not about saving money but was prompted by the transfer of community services and the acquisition of Scarborough Hospital.
'Value for money'
A spokeswoman said it needed to consolidate management and clinical leadership roles to "avoid unnecessary duplication and variation in practice and in standards of service delivery".
She said: "Staff have been informed that depending on the final structure some posts may change, but those who take roles at a lower banding will have their pay protected in line with NHS pay terms and conditions.
"This exercise is not, in itself, about saving money, but we are obliged to pay people fairly for the job they are doing, and to make sure we are getting the best value for money from every penny we spend."
Mr Cunliffe, however, said pay protection was "indefinite", could last for "as little as one year" and said employees could be asked to work overtime to make up the difference in pay.
A consultation, which began in June, is due to finish on 9 September.