Alfred Wainwright honoured at coast-to-coast walk's end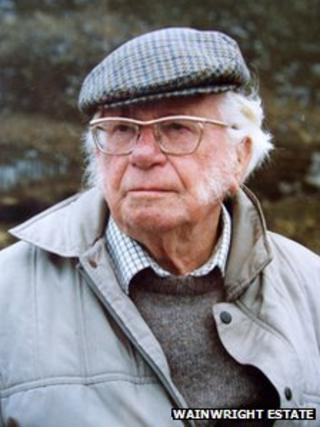 The works of fell-walker and guide book writer Alfred Wainwright have been honoured at Robin Hood's Bay.
A board has been placed in the North Yorkshire seaside village, at the end of the 190 mile (300 km) coast-to-coast walk devised by the author.
Derek Cockell from the Wainwright Society said he hoped it would provide a "focal point" for walkers.
This year is the 40th anniversary of Wainwright's guide book to the walk that starts in St Bees, Cumbria.
Hand-drawn guides
The Wainwright Society is also raising money to be used for new waymarkers, featuring Wainwright's AW signature on the coast-to-coast route.
The footpath passes through the Lake District National Park, the Yorkshire Dales National Park, and the North York Moors National Park.
Mr Wainwright also compiled a series of hand-drawn pictorial guides to the Lakeland Fells.
In all he wrote more than 40 books and featured in several television series.
He was awarded the MBE for his work, and died in 1991 at the age of 84.