Anne Bury 'lived and loved together' with Turkey shooting suspect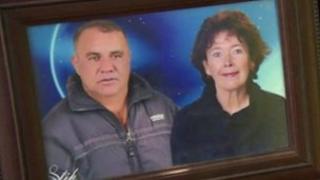 The family of a man accused of killing a British woman in Turkey say the pair had been a couple for six years.
Veli Acar's family told the BBC he lived with Anne Bury and "enjoyed a happy love together".
Ms Bury, 56, from North Yorkshire, was shot dead at the resort of Dalyan on Monday. Her son Alex remains in hospital with wounds to his leg.
Mr Acar, 46, who is understood to be her family's gardener, has appeared in court and has been detained in prison.
Ms Bury's mother, Cecilia Bury, from Middlesbrough, was also injured but has since been discharged from hospital.
While Ms Bury's family has denied she and Mr Acar were in a relationship, Mr Acar's family has told the BBC the couple had lived happily together for about six years.
'Feeling very sad'
Speaking through a translator, Mr Acar's sister, Hulya, said: "All that my father and we know is that he was in love with her and he loved her very much.
"They enjoyed a happy love together, we know that. They came here and my mother and others looked after them very well.
"They were very happy so we are really confused now."
The family was "feeling very sad", she added.
Mr Acar's father, Dursun, said a framed picture of the couple showed they were "two people in love".
He was not aware of any difficulties between the pair, he said.
Mr Acar's mother, Muzeyyen, added her son was "a very good child".
"He was very good and we loved Anne very much but we don't know what happened," she said.
The Turkish Ministry of Culture and Tourism has confirmed the relevant authorities are investigating the incident.
Meanwhile, the Foreign Office is providing consular help to Ms Bury's family.