Yorkshire Museum appeals for donations to buy torc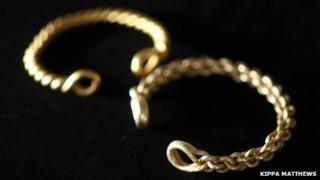 A museum has appealed for donations to help it raise £15,000 to buy an Iron Age bracelet found in North Yorkshire.
The torc is one of two found separately in 2010 and 2011 by metal detector enthusiasts at Towton, near Tadcaster.
The Yorkshire Museum in York purchased the first bracelet in 2012 for £25,000. The second has been valued at £30,000.
The museum has raised half of the £30,000 but said if it could not find the rest by the end of September the torc could be sold on the open market.
'Incredible finds'
The torcs have been dated to about 100 BC to 70 BC and are the first examples of Iron Age jewellery found in the north of England.
The museum believes the bracelets, made of twisted gold, could have belonged to a leader of the Brigantes tribe, who ruled most of North Yorkshire during the Iron Age.
Natalie McCaul, curator of archaeology at the museum, said: "They are, quite simply, incredible finds, and represent some of the earliest gold objects ever found in this region.
"They are helping us to re-write the history of pre-Roman Yorkshire, as we can now say for the first time with any certainty that there were people of significant wealth living here in the Iron Age."
Miss McCaul said the second torc was more intricate in design and was probably buried at the same time.
"We hope we can find the money to ensure this beautiful object stays in Yorkshire for the public to enjoy, but also so we can conduct research into the pair of bracelets to try and find out more about Yorkshire during this period," she added.