Harrogate offers planning amnesty for Tour de France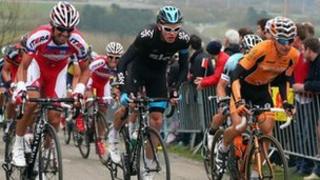 Planning controls are to be partially relaxed as the opening stages of the Tour de France are held in North Yorkshire next year.
Harrogate Borough Council said it wanted to make sure people could benefit by setting up short-term car parks, camping and caravan parks.
The authority expects about 500,000 spectators as the race passes through the area on 5 and 6 July next year.
The decision means formal planning consent would not usually be required.
The Conservative-run council said the only exceptions would be if the temporary facilities posed a safety risk.
Nigel Avison, director of development services at the council, said: "It is a temporary relaxation of controls. This doesn't grant any permanent rights.
"The Tour de France is a massive opportunity not just to showcase this area but also for the businesses and residents of the district to make something on the back of the tour."
Mr Avison added the relaxation would also help the district to accommodate as many spectators as possible during the race.