Turkish shooting victim Anne Bury's family pay tribute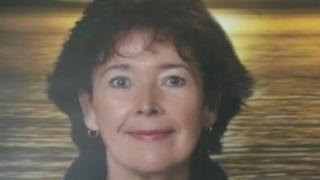 The family of a British woman who was shot dead on holiday in Turkey have described her as a "caring and compassionate" woman.
Anne Bury, 56, from Swainby, North Yorkshire, was killed in the 9 September attack, in which her son Alex and mother Celia were injured.
Veli Acar, 46, believed to have been the family's gardener, has appeared in court and been detained in prison.
His family claim he had a relationship with Ms Bury, which her family deny.
Ms Bury's brother, Paul, said he would like to thank people for their sympathy and support during what he said was "the most terrible of times".
"We and all her friends remember Anne for what she really was: a caring, compassionate, considerate and trusting woman.
"She was a wonderful daughter, sister, and mother with a highly successful career."
'Still recovering'
Ms Bury, a trained midwife, worked in a healthcare role for an oil company in Dubai.
She had also worked as a barrister specialising in health and social care.
The family were shot while celebrating Ms Bury's birthday at the villa in the resort of Dalyan on Turkey's south coast.
Ms Bury's son and mother have been released from hospital and returned to the UK.
Paul Bury said: "Our mother, Celia, and her grandson, Alex, are still recovering from their injuries but the traumatic events of that night will stay with us all."
Her family said a private funeral service would take place in Middlesbrough on Saturday.
Mr Bury said: "We would ask the media to respect the privacy of the family at the funeral as we come together to celebrate Anne's life and lay her to rest."