Scarborough town centre cordoned off as 'suspicious package' found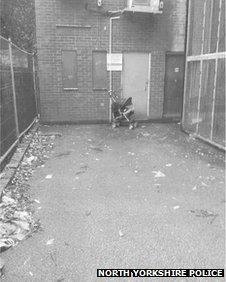 An abandoned pram prompted a security alert in Scarborough town centre.
The pram, with wires coming from it, was found at the rear of Miss Selfridge in Westborough shortly before 09:00 BST, North Yorkshire Police said.
An Army bomb disposal team was called in by police and carried out controlled explosions.
A 100m cordon was put in place and shoppers and workers were evacuated from the area. Police lifted the cordon at around 13:30.
North Yorkshire Police said the evacuation had been a "precaution" but they were confident the item had not been an explosive device.
Acting Supt Mark Grange said: "The store had found a pram at the back of their premises which had wires visible and some sort of package attached to it.
"We treated it as you would do with a suspicious item and put in a cordon whilst we waited for the army bomb disposal unit."
He said the overriding concern was public protection and officers had not overreacted.
"When you are dealing with crowded places we have to consider what the consequences would have been if it had been an explosive device."
Related Internet Links
The BBC is not responsible for the content of external sites.