Ex-North Yorkshire Police chiefs asked to repay allowances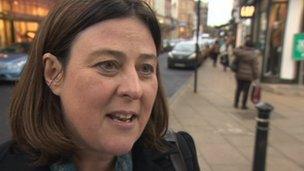 Two ex-police chiefs will be asked to pay back almost £100,000 after a review found their allowance packages may have had no "solid legal basis".
Grahame Maxwell and Adam Briggs will be asked to return the cash to North Yorkshire Police following a Police and Crime Commissioner (PCC) review.
Full details of the report are due to be made public on 9 December.
PCC Julia Mulligan said the report into the allowances would demonstrate "transparency and openness."
The review covers a six-year period from 2008 to 2013 - the legal time limit within which the payments can be recovered.
Mr Briggs was North Yorkshire Police's deputy chief constable from 2007 until he retired in 2011.
In February 2012, a report by the Independent Police Complaints Commission (IPCC) confirmed he had been given a total of £31,647.06 over three years to pay for development and medical cover.
Chief Constable Grahame Maxwell left North Yorkshire Police in May 2012 after a request to renew his fixed-term appointment was rejected.
A statement from the police commissioner's office said Mr Maxwell and Mr Briggs would now be asked for further information about their allowance packages and would be asked to repay "certain sums" to a total of £99,866.
Police commissioner Ms Mulligan said legal advice would also be sought about how to recover money if it was not paid voluntarily.
In a separate investigation, Mr Maxwell and Mr Briggs were found guilty of misconduct by the IPCC for helping relatives in a police recruitment drive, in 2010.
Payments' legality questioned
In a joint statement, Ms Mulligan and Dave Jones, the current Chief Constable of North Yorkshire, said the report was a result of local concerns over payments made to police chiefs.
"We have decided to take a series of actions, including seeking repayment of almost £100,000, to resolve this issue once and for all," the statement said.
"It will be the first time North Yorkshire Police will have published a report of this nature, and is in stark contrast to the old way of doing business and keeping reports like these under lock and key."
The commissioner said that although some of the payments had been made in good faith, they "do not appear with hindsight to have been within the legal power of the police authority".
Ms Mulligan told BBC Radio York: "It's taxpayers' money they have had and we have asked for them to pay it back."
In a statement, the former chair of the police authority Jane Kenyon said: "We acted in good faith and upon appropriate legal and officer advice in line with national guidelines as they were then.
"Until we've seen the full report it would not be appropriate to comment."
Police authorities were replaced by Police and Crime Commissioners in November last year.
Related Internet Links
The BBC is not responsible for the content of external sites.