North Yorkshire Police agrees Thirsk site deal for new HQ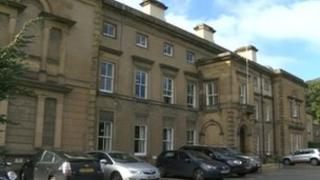 North Yorkshire Police has agreed to buy a site near Thirsk for its new multimillion-pound headquarters.
The 8.4 acre (3.4 hectare) site at South Kilvington will replace the force's current HQ, a Grade-II listed building at Newby Wiske, Northallerton.
Expected to top £18m, the new HQ will save the force about £455,000 a year, claimed North Yorkshire Police and Crime Commissioner Julia Mulligan.
A public consultation into plans for the site is due in the spring.
'Heritage value'
Ms Mulligan said the force's current site, a converted 17th Century manor house, was "difficult to access and not suited to modern policing".
"By relocating to an energy-efficient, custom-made facility close to major roads, we'll be able to provide a modern, cost-effective base that allows the police to do their job better and provide real value for taxpayers' money."
The plans currently being drawn up for the new site include a 10-cell custody suite to replace the "dated" eight-cell suite currently located in Northallerton.
More modern custody facilities, such as those at the new Harrogate police station, would allow more police time on the beat and lead to fewer complaints about time spent in custody, Ms Mulligan claimed.
The changes would also involve selling Northallerton police station which would be replaced with a smaller facility.
North Yorkshire Police's estates team was aware of the "heritage value" of Newby Wiske Hall and its grounds and would work with local planners to consider other uses for the site, Ms Mulligan said.