North Yorkshire Police allowances: No court action to recoup £100,000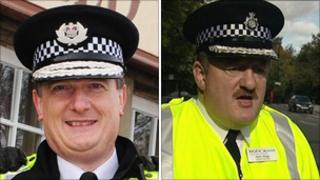 North Yorkshire Police's former chief constable and his ex-deputy have been told they will not be taken to court to recover almost £100,000 in allowances.
Grahame Maxwell and Adam Briggs have been asked to return the money after a report found the payments may have had no "solid legal basis".
However, North Yorkshire Police and the county's police commissioner have decided not to take legal action.
Court costs would "outweigh" the amount recovered, they said.
'Astonishing' request
In a joint statement Chief Constable Dave Jones and Police and Crime Commissioner (PCC) Julia Mulligan said they were "continuing to urge" former chief constable Mr Maxwell and his deputy Mr Briggs to repay the money.
Mr Briggs said he found it "astonishing" he was being asked to repay the money.
He said: "It seems incredulous to me that a PCC could have ever believed that a police force, or any responsible employer, could appoint someone on clearly laid out terms and conditions and then six years later try to renege on the agreement."
He added that he hoped the decision not to take formal action would finalise the issue. The BBC has been unable to contact Mr Maxwell.
The police force and commissioner said they believed there was an "overwhelming public argument" behind the request, but needed to be "pragmatic" regarding the success of legal proceedings.
"At present, our specialist barrister's clear advice is that the costs of taking this matter to court will outweigh any potential financial payback," they said.
"This would, in effect, amount to throwing good money after bad, and we do not think that it is in the taxpayer's interest."
Lawyers have also advised Mr Jones and Ms Mulligan that there was not an "easily accessible set of comprehensive evidence to compile a case".
Good faith
The request for repayment came after a review of the legal basis on which chief police officer allowance packages paid by the now-defunct Police Authority was carried out.
Payments from 2008 to 2013 - the legal time limit within which the payments can be recovered - were examined.
As a result the two men were asked to repay a total of £99,866, which "although made in good faith at the time do not appear with hindsight to have been within the legal power of the Police Authority".
Ms Mulligan said that having stated Mr Briggs acted in good faith it was hoped he would "extend that 'good faith' into a practical gesture of goodwill towards the people of North Yorkshire and repay the money".
In a separate investigation Mr Maxwell was given a final written warning after admitting disreputable conduct for helping relatives in a police recruitment drive, in 2010.
A misconduct charge was upheld against his deputy, Adam Briggs, in relation to the same matter.