Harrogate Allerton Park incinerator funding review dropped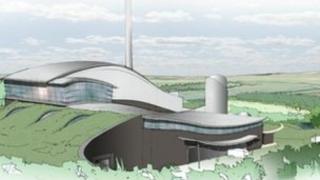 A legal challenge by two councils over the government's decision to withdraw funding for a controversial waste incinerator has been dropped.
North Yorkshire County Council and York City Council have spent more than £7m over eight years on expert advice over plans for Allerton Park near Harrogate.
The Department for Environment, Food and Rural Affairs (Defra) had withdrawn £65m of funding credits for the plan.
The councils said dropping the action did not mean the project was over.
Defra had provisionally allocated PFI credits in 2007 for the site but withdrew them in 2013 as it said the scheme was no longer needed to meet EU waste targets.
David Bowe, of North Yorkshire County Council, said the councils had taken legal advice and accepted a judicial review of the removal of private finance initiative (PFI) money would not be in the public interest.
The Conservative-run North Yorkshire County Council and Labour-controlled City of York Council said the site would reduce household waste sent to landfill.
'Picked wrong horse'
The contract to design, build, finance and operate the plant will be for 25 years, with the option to extend for a further five years.
If the scheme does not go ahead the councils could be liable for a termination payment to contractors AmeyCespa of up to £5m, a statement said.
The £7,161,304 already spent has gone on "specialist external technical, legal and financial advisers", it added.
Mr Bowe said: "We worked closely with Defra for many years on this project and feel very disappointed by the way they have conducted themselves but we now have to accept that the argument is not worth pursuing."
A Defra spokesperson said: "We believe our decision was entirely lawful and in the interest of taxpayers, we are pleased North Yorkshire Council has withdrawn its claim."
Bob Schofield, spokesman for North Yorkshire Action Group, said: "The councils have been mulishly stubborn about pursuing this scheme in the face of public opposition and in the face of evidence it is not required.
"Since 2010 they have ignored advice this is a bad idea... they have picked the wrong horse."
Mr Bowe said the councils would continue to work with the contractor and a final decision on whether the project remained affordable and value for money would be made later in the year.