Nikita the Steller's sea eagle missing in Yorkshire Dales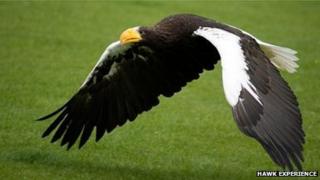 A giant bird of prey has gone missing in the Yorkshire Dales.
Steller's sea eagle Nikita has an 8ft (2.4m) wingspan and could have travelled an "enormous distance" from her home in Settle since Saturday.
But her trainer Chris O'Donnell said he thought she was probably only "two or three miles away".
North Yorkshire Police has warned people to keep their pets indoors until she has been found, but Mr O'Donnell said she was not dangerous.
"It's a very tame bird, you could walk up to her and almost pet her if you wanted to," he said.
Nikita went missing during training at the Hawk Experience on Saturday morning.
Mr O'Donnell said he was certain the bird would be found close to home.
"It will be sitting in a field wishing it was back home," he said.
"We fly birds every day, all day, so we don't make a fuss if we misplace a bird for a few hours and sometimes we can track them with radio transmitters.
"But with the size of these birds, they can pull a transmitter off in seconds."
North Yorkshire Police has asked anyone who spots the bird to call 101.
"If this turns up on your bird table you're going to call the police," Mr O'Donnell added.