North Yorkshire's smallest school to close at Easter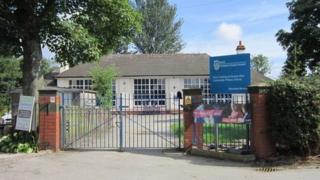 One of North Yorkshire's smallest primary schools will close at Easter, the county council has confirmed.
Hirst Courtney and Temple Hirst Community Primary School, near Selby, has only three pupils enrolled.
North Yorkshire County Council said low pupil numbers made the school "unsustainable" and it would close on 22 April.
The remaining pupils will be offered places at Chapel Haddlesey Primary School, 3 miles (4.8km) away.
A report to the Conservative-run council said numbers at the school had fallen from 25 two years ago, to three in December.
It said the number of primary school-age children had decreased across the area, affordable housing for families was not readily available and there was no prospect of building nearby in the future.
A consultation on the future of the school was held last year.
Arthur Barker, executive member for schools, said pupil numbers had reached "critical" level.
"Undoubtedly there will be considerable feeling in the area about the possible loss of the school. But our main concern must be to secure the best possible education for the few remaining pupils," he said.