Missing Ben Clarkson's friends hand out leaflets in search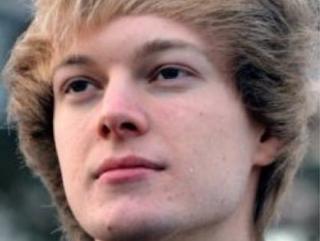 Friends of a man who went missing after a night out in York have been handing out leaflets as part of a bid to find him.
Ben Clarkson's girlfriend has also called for people to stop "jumping to conclusions" about where he is.
Police divers have been searching the River Foss for Mr Clarkson, 22, who was last seen at 03:40 GMT on 2 March.
Friends of Mr Clarkson, originally from Leeds, have been handing out leaflets in York to try to "jog some memories".
Mr Clarkson disappeared on the day the body of 20-year-old student Megan Roberts was found in the River Ouse near York.
'Somebody knows something'
She is thought to have fallen into the river on 23 January while under the influence of alcohol.
Mr Clarkson's girlfriend Rachel Peatfield, 22, said: "I have absolutely no idea [where he is] but I don't think he's in the river."
He was last seen wearing dark skinny jeans and a grey t-shirt in the Layerthorpe area after leaving Fibbers Nightclub on Stonebow in the city centre, North Yorkshire Police said.
Miss Peatfield, who moved to York with Mr Clarkson five years ago, said: "I don't want the public to jump to conclusions, he wasn't drunk - he'd had a drink but he wasn't drunk.
"I think somebody somewhere knows something. People need to know his face and to look out for him.
"I love him loads and just want to know he's safe."
North Yorkshire Police said officers were searching the river as one of several lines of inquiry.