Claudia Lawrence: Two men sought over missing York chef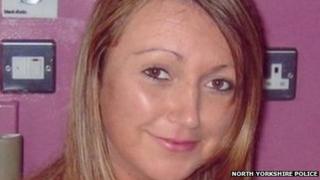 Detectives want to trace two men in connection with the disappearance of York chef Claudia Lawrence.
A murder investigation was launched after the 35-year-old vanished on 18 March 2009.
North Yorkshire Police want to speak to a man aged 55 to 65 seen standing outside Miss Lawrence's house on Heworth Road between 06:45 GMT and 06:55 GMT on 19 March.
Det Supt Dai Malyn said it was a "hugely significant" line of inquiry.
He added: "We need to identify this man as soon as possible and find out what he was doing outside Claudia's house.
"This time would have been after she had left for work if she had walked. Therefore why this person would be so close to her door remains a very important fact we need to establish."
A witness described the man as about 6ft tall with a full head of medium-length grey hair which appeared scruffy and windswept.
He was wearing a matt sandy-coloured 'Mac' style jacket which came just below the knee. It was unfastened and appeared to be made of thick material or the wearer had extra clothing underneath.
Police also want to speak to a man in his 30s seen on Heworth Road during the week Miss Lawrence vanished.
A witness said the male approached a house believed to be the missing chef's at about 14:30 GMT and a woman matching her description answered the door.
She is believed to have initially been surprised but then invited the man into the house.
He is described as white, clean shaven, of slim build and about 5ft 10in tall, with very neat dark hair and a stylishly cut fringe.
He was wearing a mid hip-length, light tan-coloured 'Mac'-type jacket, dark-coloured jeans or trousers and dark footwear. He was also carrying a small dark rucksack.
As part of a renewed appeal on BBC Crimewatch, police also released CCTV of two vehicles they want to trace.
The first is a white Vauxhall Astra van seen parked opposite Miss Lawrence's house at about 21:00 GMT on 18 March, 2009.
In an update after the programme detectives said a caller had identified a "possible owner" of the van.
The second is an old-style silver Ford Focus hatchback seen braking near the chef's home at 05:42 GMT on 19 March, 2009.
North Yorkshire Police's new major crime unit has been assessing the case and carried out new forensic work and searches at her home.
Unidentified fingerprints have been found in her house and a man's DNA found on a cigarette end in her car.
Officers later told the programme they may have received an explanation for the cigarette as a result of a call following the appeal.
Police said they found the additional fingerprints using "advanced techniques" not available in 2009.
Mr Malyn said: "We are keen to eliminate people who have been inside Claudia's home before and after her disappearance."