Malton bacon factory workers' deaths ruled accidental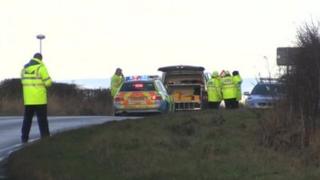 A lorry driver who pulled two people from a burning car has said he was "heartbroken" he could not save three others who died.
Rysard Orlowski, 47, Iwona Bartczak, 40 and her 18-year-old son Konrad, who lived in Hull and came from Poland died in the crash last November.
An inquest heard Christopher Strong saved two people before the car caught fire on the B1248 at Wharram-le-Street.
North Yorkshire coroner Michael Oakley, returned a verdict of accidental death.
'Hit me hard'
The inquest on Tuesday was told Mr Strong, from Flamborough, East Yorkshire, was the first person to arrive at the scene of the accident.
Speaking after the hearing, he said: "At the time it was difficult because I worked at the same place as they did and I am also heartbroken that I couldn't do anything for the other three in the car because I didn't know they were there.
"It hit me hard afterwards."
The three who died were travelling in a Ford Focus with two other men, when the car collided with a Citroen van just after 06:00 GMT.
The five people in the car all worked at the Karro Food Group in Malton.
The driver of the van, a 48-year-old man from the Pickering area of North Yorkshire, was also injured in the crash.