York council says £1.3m traffic fines 'within the law'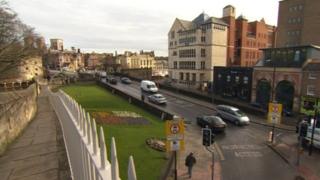 A council which was told it had "no power" to issue penalties to drivers flouting a trial traffic ban has said it is operating within the law.
City of York Council has issued fines worth £1.3m since it banned general traffic from using Coppergate or Lendal Bridge at certain times of the day.
Earlier this week a traffic adjudicator said the roads did not qualify as bus lanes and signage was inadequate.
But the council said it had taken legal advice and the ban would continue.
'We are confident'
More than 57,000 drivers have been issued penalty notices since the restrictions were put in place in August.
Motorist Nigel Rhodes appealed against his £60 fine for "being in a bus lane" on 21 August last year.
Ruling in his favour at a tribunal, adjudicator Stephen Knapp said "the restriction was not on any reasonable view a bus street" and concluded that the authority had "no power" to issue penalties.
But the council's chief executive Kersten England said: "Having received independent legal advice from a leading expert in this field we are confident we are operating both Lendal Bridge and Coppergate schemes within the law.
"We also take assurances from Oxford, who contested a similar appeal with the Traffic Penalty Tribunal and successfully won."
Councillors are due to decide whether the restrictions should continue at a meeting on 6 May.