Hazards warning for North Yorkshire bikers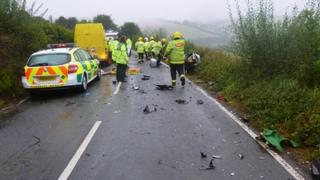 Police motorcycle riders are meeting bikers at a riders' halt in North Yorkshire in an effort to improve safety on the county's roads.
The main and side roads in the county are a draw for bikers but last year 15 riders were killed and 96 injured.
Now police and representatives from the Institute of Advanced Motorists are taking their safety message to the town of Helmsley.
Bikers will be told about hazards and high-risk locations in the county.
Riders travel from the many nearby urban areas to experience the freedom of the hills and vales, away from the more restrictive built-up areas.
The roads themselves can be unforgiving, dotted with hazards such as drystone walls, blind corners, tractors and other slow-moving traffic.