Malton rail level crossing crash victim, 77, dies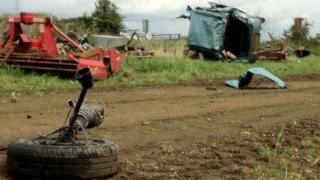 A 77-year-old man died when his car was struck by a train at a rural level crossing in North Yorkshire.
The crash happened at about 09:15 BST at Ivy Lea rail crossing in Scampston, near Malton, British Transport Police said.
No passengers were injured but the train driver is being treated for shock.
Network Rail has confirmed to BBC Radio York it is "in discussions" with the landowner to close the crossing.
The train involved was the 08:48 Scarborough-to-Liverpool Lime Street TransPennine Express Service.
Services delayed
A British Transport Police representative said: "Sadly, the driver of the car, who is believed to be a 77-year-old local man, has died."
He said the man's name would not be released until a coroner opens an initial inquest into the death.
The collision happened on a farm track, which crosses a country estate.
Network Rail said the crossing was what it calls a "user-worked crossing", meaning anyone wanting to cross the line has to telephone for permission first.
It has been gradually closing many level crossings and 230 have shut since 2009.
Phil Graham, Network Rail's level crossing risk specialist, said eight crossings had been closed on the York to Scarborough line in the last five years.
Rail services in the area were affected as a result of the crash and rail replacement bus services were put in place.
TransPennine Express said services resumed early on Wednesday afternoon.
'Loud bang'
Dog walker Annie Wilson told BBC Radio York she had heard the sound of a collision moments after seeing a man driving close to the crossing.
She said: "I stopped along Ivy Lea because there was a gentleman in a car waiting to turn into Ivy Lea, and I stopped to let him go through the crossing - I assume that's where he was going because it's quite a narrow track there - and carried on across the field.
"I must have been about 400m away and I heard a loud bang, and then heard all the horns of the train so I wasn't entirely sure what had happened.
"I didn't make any link between a car or anything, I just heard a bang from the train, and then... saw another train come along from the other direction and both trains sounding their horns and stopped there. I carried on away and then heard all the sirens."
Passenger John Oxley tweeted to say that about 30 people were escorted off the train into a nearby field.
He said passengers were then helped on to a second train, on the eastbound line, to be taken to Malton station.