Catterick Garrison £25m 'town centre' work begins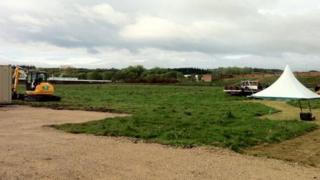 Work to create a new "town centre" at one of England's largest army bases has started.
The project, being built in Gough Road at the Catterick Garrison, North Yorkshire, will include a hotel, shops, cinema and a town square.
Planning permission for the £25m scheme was given in 2013.
The development is expected to create the equivalent of 700 full-time jobs and is due to be completed by Easter 2015.
All infantry soldiers in the British Army receive their basic and advanced training at the base, which has a population of about 18,000.
The garrison commander, Col Stephen Padgett, said: "It will make it a more attractive place for people to be posted, it will make a more attractive place for families as well as for serving personnel.
"It is tremendous and people are very excited about it."
The development is a joint venture between Kier Property and Lingfield Securities.