Battle of Britain Spitfire undertakes flypast at York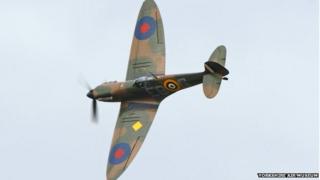 A lone surviving Spitfire which served in the Battle of Britain has undertaken a flypast near York.
The MKIIa 'P7350′ aircraft flew over the Yorkshire Air Museum in Elvington as part of the venue's Thunder Day event.
The plane is thought to be the oldest flying Spitfire in the world and the only one still flying that took part in the Battle of Britain.
It was withdrawn from service in April 1942 after two years in operation.
A spokesman for the museum said: "To have this aircraft, which is a remarkable survivor of the Battle of Britain, allocated for our event is truly wonderful and we anticipate a good crowd turning out to see it."