Masham Tour de France bunting removed over safety fears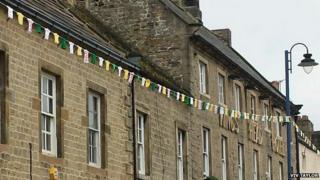 Bunting put up in a town in North Yorkshire to mark the Tour de France has been removed due to safety fears.
More than 20,000 hand-knitted miniature jerseys have been produced to decorate the route of the cycle race through the Harrogate area.
In Masham, in the Yorkshire Dales, the bunting was removed on Wednesday after the county council objected.
The bunting had been hung from lamp-posts but the council said the posts could bend if it got wet and heavy.
A spokesperson said: "We noticed that the lighting columns were leaning and in the interest of safety we asked for it to be taken down and not to be hung from lighting columns.
"We are happy for bunting to be put up elsewhere in the town."
'Such a shame'
Tessa Klemz, manager at Mashamshire community office, said residents in the town had then hung the bunting from homes and businesses instead.
"We are all trying to make it a great event," she said.
"There were 20,000 of these jumpers around the district and it seemed such a shame to see them taken down and forgotten about so we thought we ought to get them back up again quick."
Harrogate Borough Council which hung the bunting said it had removed it from the lamp-posts after "safety concerns" were raised.
The Tour de France begins in Leeds on 5 July with the first stage travelling to Harrogate via the Yorkshire Dales and a second stage on the 6 July from York to Sheffield.