Consecrations of two new North Yorkshire bishops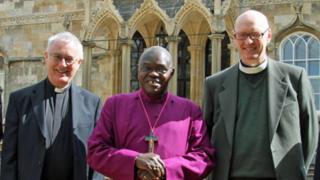 The Archbishop of York Dr John Sentamu has consecrated the new bishops of Whitby and Selby in a ceremony at at York Minster.
The Ven Paul Ferguson becomes the Bishop of Whitby and the Rev Canon Dr John Thomson takes the role in Selby.
Bishop Ferguson has commissioned a new cross, ring and staff for the ceremony from local businesses in his diocese.
Dr Thomson formerly worked as director of ministry and training in the Diocese of Sheffield.
Dr Thomson said: "I am delighted to be consecrated by Archbishop Sentamu, especially as twelve years of my childhood were spent in Uganda."
The pair will be welcomed to their new roles later in the month in special services held in in each of their archdeaconries.