North Yorkshire cash for minor road improvements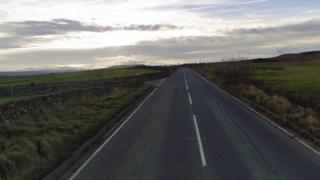 North Yorkshire's 3,106 mile (5,000 km) network of minor roads are to benefit from £24m in improvements.
The cash to improve category four roads comes from the government's local growth fund.
More than £110m has been awarded to the area's Local Enterprise Partnership to support projects designed to drive economic growth from 2015/16.
Other schemes to benefit include the development of a food science campus at Sand Hutton near York.
The Conservative-leader of North Yorkshire County Council, John Weighell, said a quarter of the county's minor roads were in urgent need of repairs.
"Good transport links are critical to economic prosperity," he added.
The council said these roads were vulnerable to extreme weather, while the dispersed population and rural economy made minor roads particularly important.
The York, North Yorkshire & East Riding Local Enterprise Partnership (LEP) said it had also received funding for several major schemes to help deliver 4,000 skilled jobs and 5,000 new homes.
The schemes include:
The development of the National Agri-Food Innovation Campus at the site of the government's Food and Environment Research Agency (FERA).
Investment in the York Bio-Hub at the University of York to help the development of new businesses in the bio-renewables sector.
Support for road infrastructure to promote proposed housing schemes in Scarborough, Selby, Northallerton and at Catterick Garrison.
Cash will also be provided to improve vocational training at Harrogate College and in Agri-tech and engineering training at Askham Bryan College, near York.
York Central, a 86-acre (35-hectare) site, will receive funding for preparation works on the site which is earmarked for new housing, retail and office space.