Tour de France Harrogate bunting to be turned into charity blankets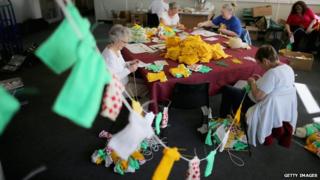 Thousands of hand-knitted jumpers hung along the Tour de France route are to be turned into blankets for charity.
About 23,500 miniature jerseys were made to decorate the Harrogate district during stage one of the race.
Harrogate Council said the bunting would remain in place until September before being stitched into blankets for charities, including Oxfam.
Councillor Phil Ireland said the jumpers had attracted huge interest and some had been taken as souvenirs.
International appeal
Conservative councillor Mr Ireland, cabinet member for environment, transport and external affairs, said: "We won't get as many back as we had anticipated because lots were taken by the public.
"Those that are retrieved will be stitched into blankets for charities such as Oxfam."
The council said it had received calls from the Isle of Man and Indiana from people wanting to comment on the bunting.
Work to transform the jerseys into blankets will be carried out at the Knitting and Stitching Show, at Harrogate International Centre, in November.
In Cambridge, plans are in place to sell the bunting to raise money for charity.
A number of the yellow bikes put up to mark the arrival of the tour in North Yorkshire are also to be sent to Africa, while others will be stripped for parts.
Emma Eagland, from charity group Re-Cycle, said: "Some of the yellow bikes will make their way across the seas on a container ship to one of our partners in Africa."