Foremost School in Harrogate: No private provider found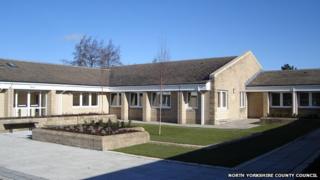 No independent provider has been found for a failing boarding school for boys with behavioural difficulties.
North Yorkshire County Council said Foremost School, near Harrogate, should be privately run after it was placed in special measures by Ofsted last year.
But the authority said it only received one bid for the contract, which was not of "high enough quality".
It now plans to turn Foremost into a day special school for boys and girls with behavioural problems.
The council said the need for residential places in the county was reducing and there was a "greater role" for it to be a day school.
Foremost School was opened in 2012 at a cost of £11m to cater for boys who have been removed from mainstream education because of difficult behaviour, but was rated as inadequate 12 months later.
It later emerged teachers and carers at the school had been assaulted 67 times in an 18-month period.
In June, Ofsted said Foremost, which currently has 10 pupils on roll, was "making reasonable progress towards the removal of special measures".
'Review needed'
Conservative councillor Arthur Baker, cabinet member for schools, said: "Our first priority, working with the new head teacher and governors, is to develop Foremost into a good school where we can guarantee that young people are well educated and prepared for life."
Julian Smith, the area's Conservative MP, said he would "look carefully" at the latest proposal but said a "thorough review" needed to be held into decisions made about the school.
"The council's motivations and desires [for building the school] were well-judged, but there are a number of decisions that have been taken since then that have not been the best and we need to have a review so we can learn from them," Mr Smith said.
The council's executive will decide whether to go ahead with a consultation on the proposal at a meeting on 29 July.