Scarborough seagull saved after being covered in yellow paint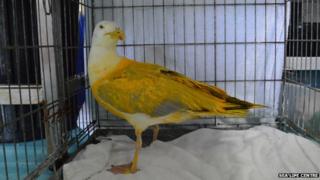 A bright yellow seagull spotted by concerned holidaymakers in Scarborough was covered in paint, according to a local wildlife centre.
Lia Bull from Scarborough Sea Life Centre said the bird could have died if it was not captured and taken into care.
A number of tourists contacted the centre after spotting the herring gull near the town's lifeboat station.
The bird was caught by a member of Sea Life staff and given to the RSPCA.
Ms Bull said the bird was probably deliberately painted as it had no paint on its feet or chest area, which would be expected if it accidentally came into contact with the paint.
She said the bird may have been the victim of a prank linked to the Tour de France.
"We know there were sheep spray painted with washable yellow paint to mark the visit of the Tour de France," she said.
"It's likely someone thought it was a clever idea to paint a seagull as well."
The bird is being looked after at a specialist wildlife centre in Cheshire.
"We hear he's eating hungrily and that the paint is coming off gradually," said Ms Bull.