Anne McIntosh replacement chosen by Thirsk and Malton Conservatives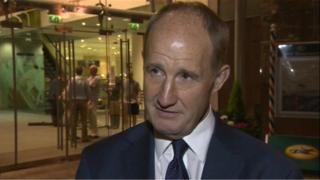 Conservatives in the Thirsk and Malton constituency have chosen an estate agent as their prospective candidate for the next general election.
Kevin Hollinrake, 50, replaces the sitting MP Anne McIntosh for the North Yorkshire seat.
She was de-selected last year by the association's executive committee after a long-running dispute.
Ms McIntosh offered her support to Mr Hollinrake, but refused to say whether she would look for another seat.
Mr Hollinrake, from Easingwold, North Yorkshire, said he was delighted to have been selected.
"I hope that Anne McIntosh will support me to ensure that this very important seat remains Conservative so I will be able to represent the people of Thirsk and Malton in Parliament," he said.
Ms McIntosh, the chairwoman of the Select Committee on Agriculture and Rural Affairs, attended Thursday's selection meeting as a member of the association.
"I shall continue the work I do for my constituency. I congratulate the winning candidate and I wish them every success with the association," she said.
She said she would make a statement on her own political future in March.
The choice of Mr Hollinrake leaves the Conservatives without a female candidate for next year's general election in any winnable northern constituency.
Two women were on the shortlist of four chosen from more than 200 applicants, but were rejected after several ballots.
Julie Moody, deputy chairwoman of the Thirsk and Malton association, said the best person had been chosen.
"I was a female candidate myself and I would have been offended if I thought I had been picked just because I was a woman," she said.
Mr Hollinrake was selected to fight the marginal West Yorkshire seat of Dewsbury in 2007, but withdrew for business reasons a year later.