Yorkshire's Grand Depart Tour de France signs stolen as souvenirs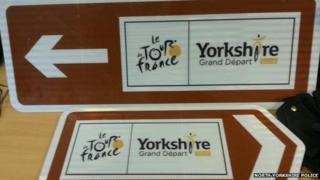 Road signs marking the route of the Grand Depart of the Tour de France through Yorkshire are being stolen as souvenirs, North Yorkshire Police said.
The brown signs allow cyclists and motorists to follow the route used by the riders in early July.
Officers said some of the signs had been offered for sale online.
An officer tweeted: "Proactive work to recover expensive #TDF2014 road signs. If you have one contact 101 @NYorksPolice before we find you."
North Yorkshire Police said the signs were professionally made road signs - usually on brown and white information boards - and cost between £100 and £300.
Lasting legacy markers
Insp Chris Galley said: "These signs have been removed from street furniture and worryingly some have been put up for sale using internet selling sites.
"These expensive signs are the property of North Yorkshire County Council and provide a lasting legacy marker of the route which should be for all road users to enjoy for years to come.
"If anyone has any information about specialist signs relating to the Tour de France they can contact North Yorkshire Police on 101 and pass that information on in confidence.
"We will investigate all reports of theft but North Yorkshire Police is currently taking a sensible approach to what may be over zealous trophy taking from around the route."
Mr Galley said if anyone has found a road sign they can hand them into any police station or council office and they will work with North Yorkshire County Council to have the route markers put back in place as a lasting reminder of the event.