York councillor defects from Labour to Conservatives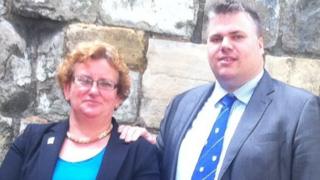 The ruling Labour group has lost its majority on the City of York Council after one of its councillors defected to the Conservatives.
Helen Douglas, who represents the Clifton ward, said she was disillusioned with Labour both locally and nationally.
Council leader, James Alexander, said she had been elected to support Labour.
The Labour group must win a by-election in another ward in October to retain control of the authority.
The 47-seat council has 23 Labour councillors, 10 Conservatives, including Miss Douglas, eight Liberal Democrats, two greens and three independents.
A by-election is to be held on 16 October in the Westfield ward to fill a vacant seat there.
'Matter of regret'
Councillor Douglas, who was not reselected to stand for Labour in next May's local elections, said: "I feel Labour has no vision nor direction nationally and am totally disillusioned with the lack of leadership from Ed Miliband and there being a lack of strong and visionary policies.
"It is clear that it is the people in the Conservative Party, whether MPs or councillors, that have the vision and the genuine solutions the country needs to achieve sustainable growth."
The Conservative group leader, Chris Steward, said he was delighted to welcome Ms Douglas to the party.
However, York's Labour leader Mr Alexander said the public would make its own judgement on her decision.
"It is a matter of regret that, after failing to secure the support of local Labour members to be reselected to contest next May's election, she has now decided she is a Tory.
"I am not sure how after being elected as a Labour councillor she can accept and defend Tory policies."