James Herriot statue unveiled in North Yorkshire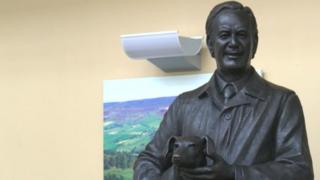 A statue honouring the vet and author James Herriot has been unveiled in North Yorkshire.
The World of James Herriot raised the money for the work celebrating the life of Alf Wight, who wrote the books that inspired TV series All Creatures Great and Small under the pen name Herriot.
The bronze statue cost £60,000 to make and will stand at the Thirsk centre.
The author's daughter, Rosie Page, praised the statue's "fantastic likeness" to her father.
"I think it's as good as we could possibly have hoped for," she said.
Her brother Jim Wight said: "When that was unveiled, I expected his head to turn. He started to speak to me. It's really quite spooky."