Wallaby in York escapes to freedom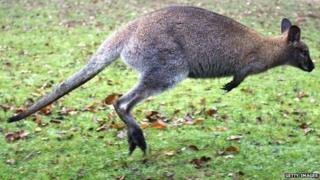 There were kangaroo capers in York when a misidentified marsupial managed to evade the police.
Officers initially received reports a roo was on the loose in the city, but when cops hopped into action they found a wandering wallaby.
The animal was cornered at Strensall Road in the north of the city but promptly disappeared into the bushes.
As it was not sick or injured, the RSPCA advised police to leave the creature to roam.
'Survive in wild'
North Yorkshire Police said: "We were called to reports of a kangaroo on a verge near Strensall Road in York last night.
"On arrival, it turned out to be a wallaby. Apparently they can survive in the wild in the UK!"
The RSPCA confirmed there are hundreds of wild wallabies in the UK.
While native to Australia, there are small colonies of wallabies in the Lake District and around Loch Lomond in Scotland.
Other sightings do occur. Last year a wallaby was seen around London's Highgate cemetery.